Le deuxième patch pour la première saison de iRacing en 2022 est arrivé et avec lui, une nouvelle piste! L'ovale court du « LA Coliseum » qui a été développé en coopération avec la NASCAR, est désormais disponible dans le store. En outre, le correctif promet des améliorations de la latence liée aux graphiques ainsi que plusieurs correctifs plus petits pour diverses pistes et véhicules.
Les ovales, même de la variante courte piste, ne manquent pas à iRacing. Cependant, le « LA Coliseum » est assez spécial puisqu'il est le première ovale d'un quart de mile qui sort avant sa version réelle et qui fera ses début d'ici quelques jours en Nascar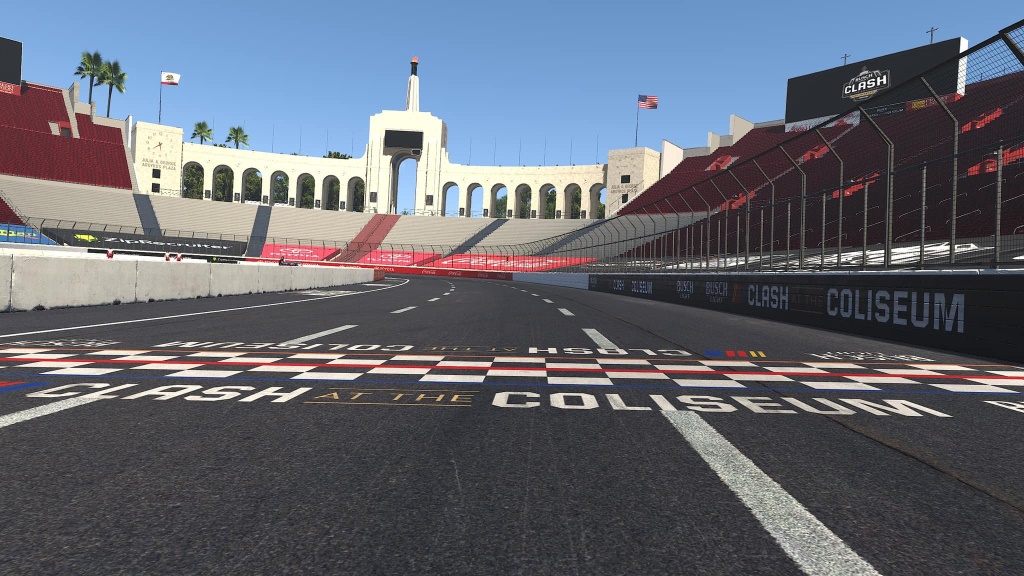 Le Busch Light Clash de NASCAR  aura en lieu le 6 février, une course annuelle d'exhibition du championnat de stock car. Jusqu'à présent, il avait lieu au Daytona International Speedway, mais se déplace cette année de la Floride à la Californie (Los Angeles). iRacing et la NASCAR ont travaillé en étroite collaboration pour créer la piste à la fois virtuellement et dans la vie réelle. En conséquence, les pilotes de simulation peuvent désormais y courir avant même les pilotes professionnels…ou les professionnels s'y entrainer avant l'évent réel ce qui est également très fréquent sur cette simulation.
De plus, la prise en charge de NVIDIA Reflex est désormais intégrée, ce qui promet des améliorations concernant les problèmes de latence liés aux graphiques. Vous pouvez trouver les notes de mise à jour complètes ci-dessous.
Patch Note (Anglais)
SIMULATION:
————————————————————–
Graphics
NVIDIA Reflex support has been enabled. When enabled in the Graphics options (on the top right), and when the Simulator is GPU-bound, this option reduces Simulator to render latency by enabling low latency mode in the device driver. When enabled with "boost mode" it also keeps the GPU clock rate higher when the Simulator is CPU-bound, which can help a little bit too. Enabling NVIDIA Reflex in the Graphics Options can help reduce this latency, mainly when the Simulator is GPU-bound. When CPU-bound, there is not much Reflex can do.
An additional graphics-related system meter, named « T » has been added to the user interface. The T-Meter measures the total frame time from when the renderer started generating the frame until the GPU completed drawing it. It is not the same as the R + G timer, because the CPU queues frames to the GPU and they can pile up, also the GPU is running in parallel with the CPU. The maximum pre-rendered frame widgets are hidden when Reflex is enabled, since it takes over and keeps it near zero.
The NVIDIA Reflex option is disabled by default if the GPU/driver does not support it.
Spotter
A new setting, "[SPCC] textDurationFactor=1" has been added to the app.ini file. This value is the multiple for the length of time spotter text messages are displayed on the screen (ie: a value of 2 leaves spotter messages on the screen twice as long as the default value of 1).
TrueForce
TrueForce support has been temporarily disabled while we await a patch to GHUB. All Logitech G923 users will need to recalibrate their steering. If desired, you can manually turn TrueForce support back on by manually editing the "app.ini" file and setting "[Force Feedback] trueForceEnabledForcedOff=1".
Reworked Logitech TrueForce support so users will no longer need to recalibrate after the system is enabled/disabled. That's right! This is hopefully the last time you'll be forced to recalibrate by an update!
CARS:
————————————————————–
Ferrari 488 GT3 Evo 2020
Fixed an issue where the IMSA numbers were black instead of white.
Hyundai Elantra N TC
Fix issue with this vehicle having a corrupt "yaml" telemetry string.
Fixed a texture issue on the trunk area.
Mercedes-AMG GT3
The occurrence frequency of ignition cut backfires has been reduced to a more realistic level.
NASCAR Cup Series Class Cars
Drafting parameters have been updated.
NASCAR Next Gen Class Cars
Drafting parameters have been updated.
Vehicle parameters have been updated slightly to satisfy the latest NASCAR rules packages.
Car specs have been updated based on the latest information from NASCAR.
Fixed an issue with a cyclic modulation in the engine sounds for high RPM.
iRacing setups have been updated.
Porsche 911 RSR
Fixed an issue where the steering column was invisible when this vehicle was viewed in the Paint Shop.
SCCA Spec Racer Ford
Brake bias adjustments are now allowed during Fixed Setup Sessions.
TRACKS:
————————————————————–
Charlotte Motor Speedway
Fixed an issue with dark green grass edges.
Daytona International Speedway
Fixed some issues where some off-track surface types were not set properly.
(Road Course) – The time penalty for cutting the Bus Stop has been increased, and tire barriers have been deployed in defensive positions at the Bus Stop to prevent course cutting.
(Road Course) – The sausage curb has been removed.
Los Angeles Memorial Coliseum
The Los Angeles Memorial Coliseum, a short asphalt oval, is now available for purchase and racing!
More than 100 years ago, one of the United States' most iconic sporting venues was commissioned as a memorial to veterans of World War I. Since then, the Los Angeles Memorial Coliseum has hosted just about every event imaginable, from the Summer Olympics (three times as of 2028, which will become a record for any facility at that time) to the Super Bowl, and has served as the home stadium for numerous professional and college sports teams in football, baseball, soccer, and rugby. The stadium has even hosted dozens of major off-road motorsport events, with trucks and cars jumping in and out of the Coliseum entrance every lap.
In 2022, NASCAR became the latest major league sport to join the venue's legacy with the Busch Light Clash at the Coliseum. A quarter-mile circuit constructed within stadium walls will see the annual preseason all-star race of the NASCAR Cup Series leave Daytona for the first time. The track was designed and tested by iRacing in cooperation with NASCAR in advance of the unique event, with top real-world and sim racing pros all logging countless laps before both its release on iRacing and real-world debut. The change in venue also leads to a change in format, with qualifying heats to build the feature grid in a manner similar to a local short track race.
Now's your chance to take the wheel in a unique part of NASCAR history in one of America's most iconic sporting venues. See if you've got what it takes to conquer the Coliseum quarter mile!
Add the Los Angeles Memorial Coliseum to your iRacing landscape by purchasing it from the iRacing store here: https://members.iracing.com/membersite/member/TrackDetail.do?trkid=437
Nürburgring Combined
The rolling start grid has been moved back to the gantry on the straight to mitigate issues with proper spacing on starts with multi-class Sessions.
Oran Park Raceway
Fixed some issues with terrain planes sticking through some walls.